The Future of Teaching by Guy Claxton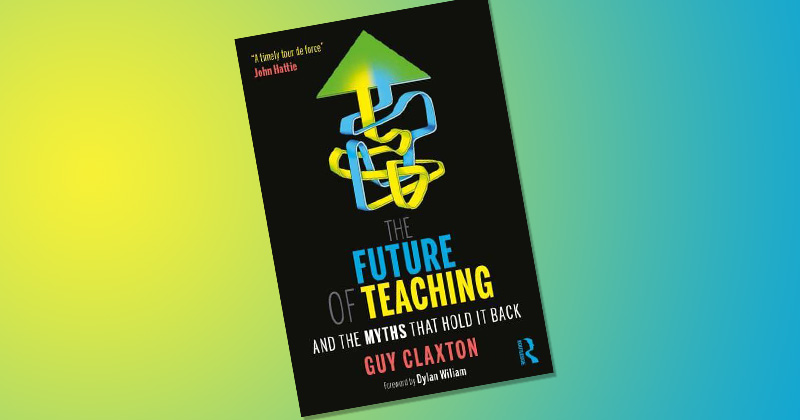 Assistant responsible for English, Mary Hind-Portley finds a book that promises a synthesis but which brings little balance to the main educational debates
This book claims to explore the future of teaching through Claxton's critique of a range of practices that he classifies as "trad" with some comparisons to those of "progs". These terms have dominated the social media debate for some time, but now seem outdated. Yet they proliferate in the book, which has not drawn this reader into the debate Claxton wishes to present. While it is fair to question current thinking and make a strong case for and against popular approaches to teaching and learning, Claxton's arguments seem more personal than professional.
The book begins in the Shakespearean way, but Claxton's prologue hardly accords the house of "trades" much dignity. The tone is vituperative and obnoxious, proponents of a knowledge-rich program taught through direct instruction called "DIKR". He offers some criticism of "prog" approaches, but it is "DIKR" that Claxton writes acerbically, referring to its "half-truths" that set teachers and leaders back, "rather than encouraging them to go. forward".
Claxton also states that we need to explore the "misconceptions that have taken root in the DIKR movement, so that we can allow the necessary tide of innovation to continue." But will Claxton help the reader do this?
The first chapter is not promising. Entitled " Punch and Judy " (a combat metaphor that rather trivializes the overall message of the book), it names several current influential educators and, rather than presenting a rigorous academic critique of the theories they promote, quickly turns into derogatory comments. He dismisses one of them as a "young English teacher" and calls a school "notorious". Claxton maintains that he "has tried to be as impartial as possible so far", but this reader could only view the author as dishonest, given the obvious bias in his language choices.
Rather than a rigorous critique of theories, it quickly turns into pejorative comments
Chapter 2, ironically named "Values", introduces us to the "river of learning" and an overview of "progs and trades". It's hard to determine what the take out might be for the busy leader and / or teacher here. Traders are presented as "less inclined to have difficult and sensitive conversations about what the results should be, if they are to empower all young people to face the considerable challenges of life in mid to late grade. 21st century. ". The load could be leveled at this book so far.
From there, Claxton walks us through "Knowledge", "Thinking", "Learning and learning to learn", "Memory" and "Teach". After that, we move on to the chapters entitled "Reality ̶ get more out of it", "Research ̶ but what kind? and finally and eponymously, "The future of education". These titles promise a lot but seem to bring nothing more than a permanent criticism of the "DIKR" approach. That would be good, however, but the arguments seem more determined to criticize the alleged singular approach of the collective "DIKR" than to present a nuanced decryption of specific aspects.
The comments on memory in Chapter 6 are difficult to follow and difficult to relate to the work and research on memory that has supported many teachers and leaders in recent years. It would have been beneficial to the reader if Claxton explored other theories of memory to support thinking about current pedagogy. The section on cognition 4E might have been an interesting area for readers to think about if it had been the focus of the chapter.
In chapter 7, Education, Claxton's criticisms of supposedly "DIKR" classrooms are contrasted with unique examples of classrooms as a whole. Claxton also seems to assume that thought is not part of a so-called " DIKR " class, but practitioners in the knowledge-rich classes constantly maintain that they are using the knowledge to build a pattern to support rich thought. This appears to be another missed opportunity for a real synthesis.
Overall then, The future of education is a rant against "DIKR" as a single entity rather than a positive exposure of its author's approach. "Education is a complicated business," he rightly says. Which makes the reductive approach that follows sadly ironic.