Should you close an unused credit card?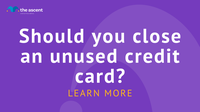 As you can see, in this example, closing an unused credit card pushed the credit utilization rate above the 30% threshold. This would likely result in a lower credit rating.
When should you close unused credit cards
While it's obvious that closing an unused credit card can hurt your credit score if you're not careful, there are some circumstances that are worth it.
One of the main reasons for closing an unused credit card is that that card comes with expensive annual fees. That's not to say that all cards with annual fees are bad – they can be very useful when you get the most out of them. But if you don't use the card, why are you paying for it?
Another time, you may want to consider closing an unused credit card if you just don't want the temptation it presents. Each credit card you own represents additional credit card debt you could incur. If you're struggling to manage your debt, you might want to eliminate all the cards you don't absolutely need.
Close an unused credit card without hurting your score
Depending on your situation, you may be able to close an unused credit card without affecting your credit score. For example, if you have multiple credit cards from the same issuer, they may allow you to transfer your balance from a closed card to your remaining card.
Consider this assumption: you have two credit cards with the same issuer, one with no annual fee and a credit limit of $ 3,000, and one with an annual fee and a credit limit of $ 5,000. You want to close the card with the annual fee to save money. You can ask your issuer to transfer the $ 5,000 credit limit to your other card before closing the account. That way, you end up with just one credit card with a limit of $ 8,000.
Transferring your credit limit to another card keeps your total available credit, which keeps your usage rate at the same level. As long as the card you close isn't one of your oldest accounts, it can help your credit score stay the same after closing an unused credit card.
That being said, if the main reason you are considering closing an unused credit card is annual fees, you may have other options. First, try to negotiate with your issuer to waive the annual fee. Depending on how long you have the account – and how much the issuer wants to keep your business – you may qualify for an annual fee waiver or reduction.
If not, see if they can downgrade the card. Most cards with high annual fees will have a cheaper card with similar benefits and rewards, and your credit card issuer can let you turn your expensive card into something more affordable.