Agency awarded for offering pregnant women 'real alternatives' – Catholic Philly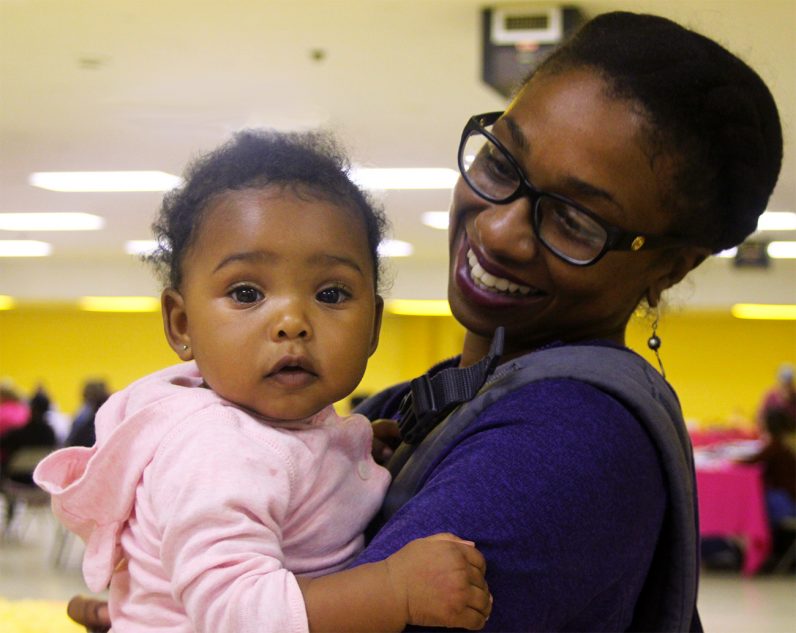 By Gina Christian • Posted on June 16, 2021
For the ninth year in a row, an Archdiocesan agency has been recognized for its wide range of services to thousands of pregnant women – an awareness that has escalated amid the COVID-19 pandemic.
Catholic Social Services (CSS) was recently named Pennsylvania's "Service Provider of the Year" by Real Alternatives, a nonprofit Commonwealth of Pennsylvania charity that administers pregnancy and parenting support services.
In addition, CSS's Northeast Philadelphia Family Service Center (NEFSC) received its 11th Alternatives "Site of the Year" award, in recognition of its work with pregnant women and new mothers.
In 2020, CSS helped 3,976 pregnant women through its Beautiful Beginnings program, distributing diapers, baby food, maternity and baby clothes, car seats and baby furniture.
"The list goes on," said Camille Crane, administrator of CSS's Casa del Carmen Family Service Center in North Philadelphia. "As a mom prepares to welcome her newborn baby, the most important needs are buying expensive items. "
CSS also connects women with medical and other essential services, while offering in-depth parenting classes.
The agency's mission took on new urgency as the pandemic spread, with "isolation, fear of the virus and lack of resources" gripping pregnant women across the region, said Amy Stoner, director CSS community, housing and homeless services.
"It all combined really made an impact and created a lot of stress for clients," said Stoner, who joined the CSS staff to accept the Real Alternatives awards at a June 8 conference near Harrisburg.
Initially, social distancing linked to COVID made it difficult to stay in touch with customers, she said, as CSS staff normally rely on face-to-face interactions at the five main sites of the agency throughout the region.
However, with the lockdown orders in place, outreach workers quickly turned to Zoom to hold prices, Stoner said.
"We were really aware that staying connected was very important," she said.
On the contrary, the move to pandemic-related online support has resulted in greater awareness of CSS resources, said Sonia Navarro, longtime NEFSC parent educator.
"We were able to reach more people with Zoom, and it was a success," she said. "People are at home (during lessons); It is convenient."
Navarro joked that she and her colleague Allison Kane dubbed their four-day-a-week online parenting classes – which regularly attract 12-25 participants per session – the "Sonia and Allison Podcast".
"We get along well," said Navarro, whose native fluency in Spanish puts Latino customers at ease. "We're not rehearsing, but people are typing little hearts in the Zoom chat box in response."
Navarro and her colleagues also keep track of diaper deposits in clients' homes and make direct phone calls to clients – "even in the hospital, while they are in labor," she said.
Delivering a baby during the pandemic was particularly frightening for many clients, Navarro noted, as COVID precautions typically prevented husbands, partners and other loved ones from being in the hospital.
"People were petrified," she said. "I must have spoken to a lot of my Spanish speaking clients, many of whom were in tears. I had to mentally help them and tell them, "It's good to go to the hospital. They were sad that their husbands couldn't be there.
A client's fears stemmed from a desperate race against time: Referred to CSS by a priest, a woman sought to cancel the medical abortion she had started.
"The reversal process for the mother and the whole family was painful as they waited for the positive outcome (of survival)," Crane said. "During this time, we continued to reach out to Mom, who found comfort in the church and God, and who said she would be in touch if the need arose."
Poverty and lack of sufficient resources are key factors for women seeking abortion. According to the Guttmacher Institute, 75% of abortion patients in the United States come from poor, low-income households, of which 53% are black or Hispanic. Some 59% already have at least one child.
Globally, the same organization reports 73.3 million annual abortions, with the majority concentrated in Asian, Arab, African and Latin American countries.
As COVID restrictions are relaxed, Stoner and her team are redoubling their efforts to ensure that pregnant women have what they need to become new moms – including a strong sense of community.
"You can't go through pregnancy alone," she said.